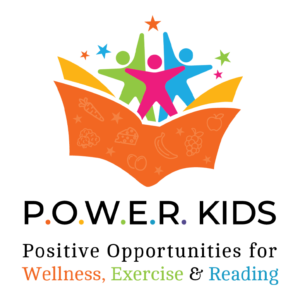 P.O.W.E.R. KIDS, a new partner program of the Claude W. and Dolly Ahrens Foundation, aims to empower students in elementary school to make healthy choices inside and outside the classroom. Students will be exposed to a variety of activities for learning about healthy snacks, forming positive habits and other wellness opportunities.
Conversations began in the spring of 2022 with the Grinnell Education Partnership (GEP) about the previously named Healthy Readers program which has been a part of GEP since 2015 and run through AmeriCorps leaders. During the pandemic, as schools closed and visitors were limited, the Healthy Readers program efforts were reduced. Moving into the 2022-2023 school year, GEP was looking for help with sustainability of the program and CDAF excitedly stepped up to form a new partner program called P.O.W.E.R. Kids. The program mission aligns directly with the mission of CDAF – working to improve the quality of life of current and future generations of Grinnellians through parks and recreation, health, and education. Helping students achieve the overarching goals of increased wellness through healthy choices and activities is the desire of the P.O.W.E.R. Kids program. Looking ahead to the school year some of the planned activities are:
Farmers Market for Davis Elementary 3rd and 4th graders. Introducing unique ways to find healthy snacks and food, sharing positive mental health, and learning about local foods.
Poweshiek County Extension Bike Smoothie experience for 2nd graders. Combining exercise and healthy snacks is a rewarding activity and one that can be shared into adulthood.
Kindergarten and 1st graders will have the opportunity to listen to a story and taste test a healthy snack.
Future programming to include, mindfulness, yoga, healthy screen time habits, and more!