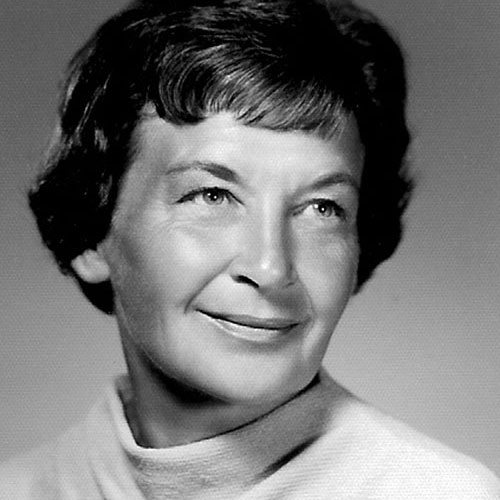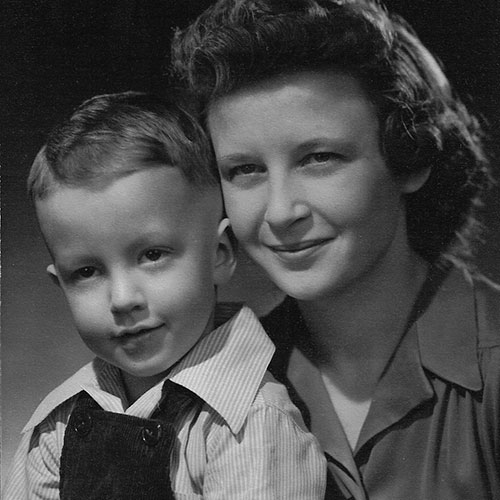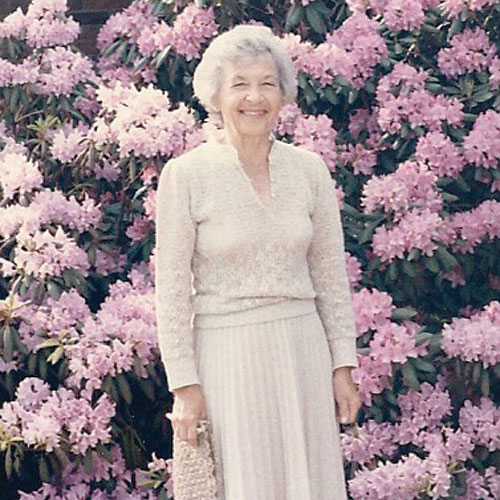 Dolly Ahrens was born in 1917 and grew up in Marshalltown, IA. Dolly was a star basketball player on the Marshalltown high school team. Married to Claude in 1937, Dolly was a devoted mother to Paul, an avid golf player and exceptional hostess and cook.
A 1971 newspaper article in the Des Moines Register illustrated how much Dolly provided the foundation for her and Claude's reputation as hospitable enthusiastic party givers. Dolly played an important role in Claude's work by entertaining and always acting as the willing hostess when he invited salespeople or clients to Grinnell. The article described her as serving meals to groups ranging from 78 family members for a Christmas dinner, to 91 P.E.O.'s and their husbands for a sit-down dinner, to 250 conventioneers for an indoor-outdoor business dinner. In the article she told the reporter that she enjoyed feeding large groups, and demonstrated how her house was set up for entertaining.
Dolly was very down-to-earth and had the gift of treating people the same no matter who they were. She always tried to help those in need. Dolly was Claude's "rock," the one he always leaned on and depended on to be there for him. Married to Claude for fifty-five years, Dolly lost her fight to breast cancer in 1992 and passed away.
In 1994, Claude W. Ahrens established the Dolly Ahrens Achievement Scholarship Award. Since 1994, a scholarship in memory of the late Dolly Ahrens has been made available each year for a minimum of ten graduating seniors of Grinnell High School.
The awards, up to $2,500 each, may be used for any post-secondary education or training deemed acceptable by the selection committee. The scholarship money must be used within one year after graduation from Grinnell High School.
The nominees need not necessarily be the best academic students or the most talented individuals, but should be a self-directed person who is a responsible contributor to the community. Each year, the application process typically opens on December 1st with a deadline date of mid-March. Winners are announced at the annual GHS Honor's Night before high school graduation in May.
DOLLY AHRENS ACHIEVEMENT SCHOLARSHIP
Since 1994, the Dolly Ahrens Scholarship Achievement Award has awarded over 300 scholarships to local Grinnell-Newburg High school seniors. Over $750,000 has been awarded to date. Dolly Ahrens Achievement Award recipients have attended a variety of top universities, colleges and technical schools throughout Iowa and the greater United States.
The Dolly Ahrens Scholarship allows graduating seniors from the local area financial assistance for post-secondary tuition, while instilling the importance of Dolly's legacy of community involvement and responsibility.
Click the link below to submit a scholarship application. Deadline to submit applications is 3/11/22.
Some of the schools award recipients have graduated from or are currently attending:
University of Iowa
Iowa State University
University of Northern Iowa (UNI)
Drake University
University of Dubuque
Grinnell College
Central College
Wartburg College
Coe College
Luther College
Northwestern College
Simpson College
Loras College
Dordt College
Buena Vista University
Des Moines Area Community College
Marshalltown Community College
Mercy School of Health Sciences
Illinois Wesleyan University
Nebraska Christian College
Knox College (IL)
Macalaster (MN)
Webster University (MO)
Ripon College (WI)
University of Kansas
Bryn Mawr College (PA)
Columbia (NY)
Arizona State University
University of Northern Texas
Carlton College (MN)
Kalamazoo College (MI)
Smith College (MA)
New York University
Oberlin College (OH)
Colorado College
Middlebury College (VT)
Bethel University (MN)
Furman University (SC)
Scholarship Recipient Testimonials
Past recipients reflect a plethora of academic interests and have majored in fields as diverse as biology, civil engineering, environmental studies, business administration, nursing, elementary education, social work, political science and theater, to name a few. While pursuing their undergraduate education, many of our recipients have found exciting ways to be involved in their campus communities through involvement in academic honor societies or clubs for their majors, varsity sports or intramurals, choral, instrumental or dance ensembles, fraternities or sororities, student government, extracurricular clubs or committees and campus employment. In addition to campus involvement, many of our past recipients have continued to reflect Dolly Ahrens' legacy and have been active in the larger community through a variety of community service endeavors such as mentoring, tutoring, volunteering through hospital and church networks, as well as participation in service trips.
"I thank you for your willingness to give to students in order to facilitate their higher education. Your foundation does great things for the people of the community and I hope this opportunity will still be here for my children."
"This award helped considerably from a financial aspect. A college education is expensive and every dollar counts. I had to wait for my first semester's bill before I really appreciated and understood the significance of the Dolly Ahrens Achievement Award."
"Financially, the Dolly Ahrens Award, along with other community awards, significantly helped me start my first year at Knox with minimal loans. And, knowing my community supported and believed in me as I went off to expand my horizons was valuable too."
"After completing my first semester at Grinnell College, [the Dolly Ahrens Achievement Award] has been put to good use. In the last five months, I have had so many experiences that have encouraged me to make a positive change in the world. From learning the value of diversity from my international floor mates, to learning the value of our state's original landscape and the need for conservation, I have come to realize that the need for change is all around us. And now, I have begun to realize what 'leaving the world better than you found it' truly means."
"[The Dolly Ahrens Achievement Award's] ethos is something I have carried forward in my professional development and career plans."
"This award helped me in a large way due to the many expenses of attending college. Attending UNI will give me a great opportunity to pursue my goals for my future. Receiving this award makes me want to give back to the community. If I become a teacher and coach, I think this will be my way of making a difference in the lives of others."
After receiving their diploma, award recipients have continued to follow their diverse career interests and strong sense of community involvement. Graduates are currently pursuing careers all over the United States, in a variety of fields such as scientific research, business, health sciences, non-profit work, public health, human resources, teaching and acting. Outside of their work responsibilities, past recipients have again shown to be impressive contributors to their community: many recipients have actively served on boards for their community or career fields, volunteered for schools, hospitals, churches or non-profit organizations, coached youth athletics, or been involved in neighborhood arts offerings such as choral ensembles.
Advice from past Dolly Ahrens Achievement Award recipients:
"Making a difference is easier than you think and 100% more rewarding than just thinking about how you will leave your mark. We need more people in the world who are willing to take one more step in order to put their thoughts into action."
— Marta Andelson, 2010 recipient, Grinnell College '14
"The Dolly Ahrens Achievement Award was established to give back and to help others. As you go forward, always remember this gift and give back to others so they know the feeling of receiving generous support from others."
— Laura Miller (nee Kriegel), 2001 recipient, UNI '05
"Being a well-rounded person with lots of interests makes life fun, but also serves you well in many aspects of your life. What makes the Dolly Ahrens Achievement Award unique is that it rewards students for being good, well-rounded people."
— Keri Carstens (nee Deppe), 1997 recipient, Wartburg '01
"Getting an education is the best thing anyone can do for themselves. Keep learning!"
— Thomas Heineman, 2006 recipient, University of Iowa '10
"College is expensive and it can be a hard adjustment emotionally. When it gets hard, there are two options: go through the motions or embrace it and find things that make you happy. If you do the former, you are paying for a degree—a piece of paper—but if you do the latter, the experience and the knowledge you gain are priceless."
— Georgia Wright-Simmons, 2008 recipient, Middlebury College '12
"I appreciated the help and encourage others to do the extra work applying for it."
— Steven Boggess, 2004 recipient, Northwestern College (MN) '08
"I would suggest all high school seniors to not only take the time to fill out the application but also to take the time to learn more about Dolly Ahrens and other areas our community has to offer."
— Katie Ditzler, 2008 recipient, Iowa Valley Community College '13
"Find something you have a passion for and try to use it to help others in need."
— Brandon Mikel, 2010 recipient, Iowa State University '14
"It is worth the time that it takes to apply for scholarships. The scholarship application process is good practice for college and for the job application process!"
— Shanna York (nee Swanson), 2002 recipient, Iowa State University '06
"Always believe in yourself—you can do anything you put your mind to. Never give up until you have achieved everything you wanted."
— Tara Rinehart (nee Lidtka), 1995 recipient, Arizona State University '97
"To the current high school applicants: apply for as many scholarships as possible, even if you think you won't get it. I was proven wrong and was so surprised with the outcome! It made a wonderful difference in my life!"
— Whitney Swick, 2009 recipient, Olivet Nazarene University '13
"Apply- hope for the best- and most of all, work hard, because life is worth it."
— Jarrett Thompson, 2010 recipient, Grinnell College '14