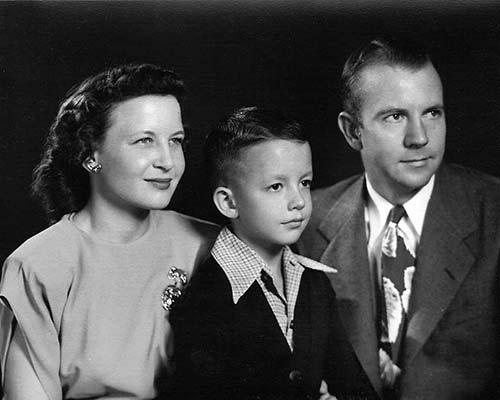 Dolly, Paul and Claude Ahrens – 1944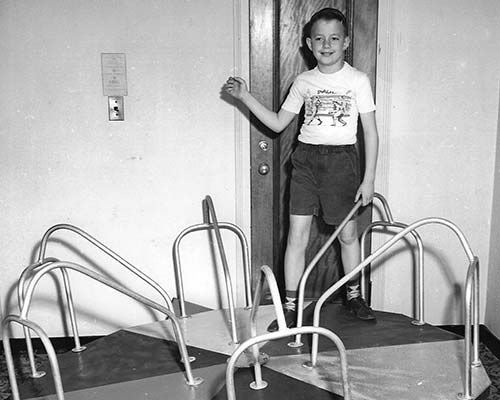 Paul Ahrens on 6ft. Miracle Junior Whirl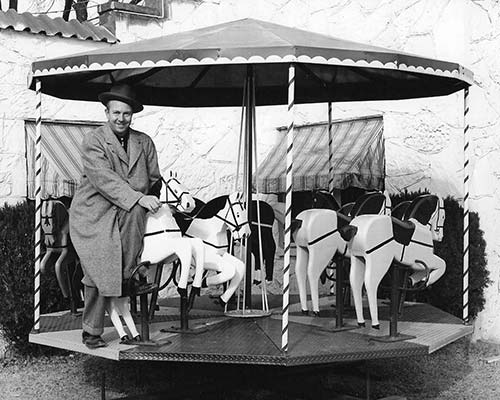 Claude on the Miracle eight-horse Carousel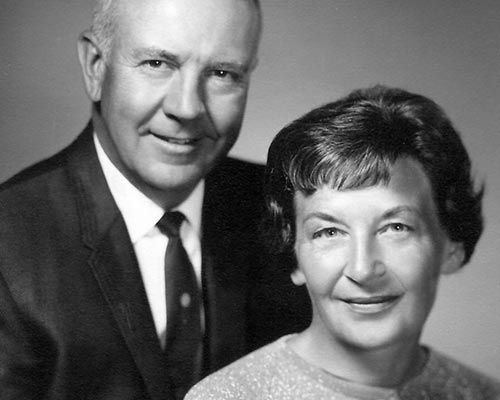 Claude and Dolly Ahrens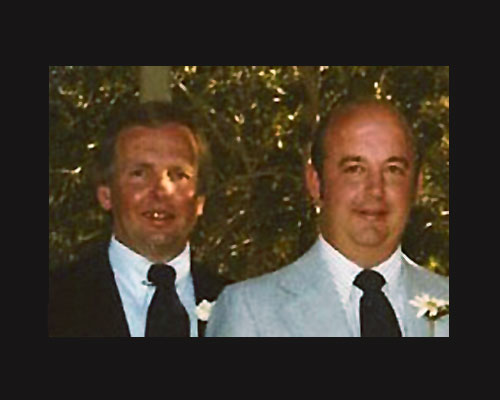 Jim Paschall and Paul Ahrens – 1978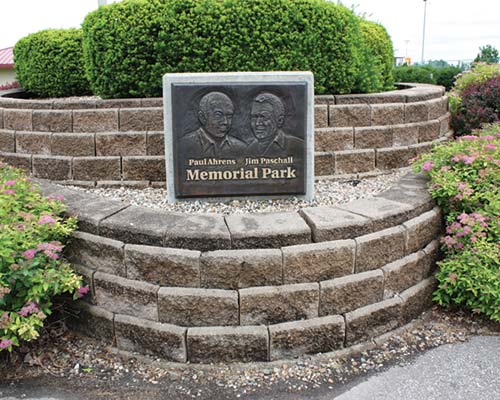 Paul Ahrens/Jim Paschall Memorial Park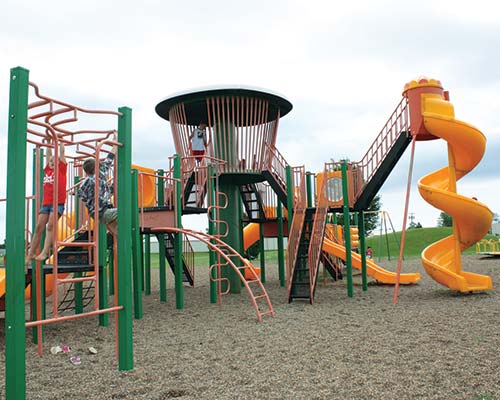 Playground at Ahrens/Paschall Memorial Park
Claude W. Ahrens was born on August 18, 1912. He graduated from Grinnell High School in Grinnell, IA and attended Grinnell College. He married Dorothy "Dolly" Hey in 1937. Claude and Dolly had one son, Paul W. Ahrens, father to Susan, Chad, and Julie.
In 1940, Claude started the Ahrens Hybrid Seed Corn Company, which he later sold to Cargill, Inc. He then launched Ahrens Manufacturing Company, initially relying on a single product; the Miracle Whirl. The merry-go-round set a new standard for the recreation industry. Ahrens Manufacturing became Miracle Recreation Equipment Company, and more revolutionary designs followed. Miracle Recreation became the world's number one manufacturer of playground equipment. He and his son, Paul, had put together a series of design innovations that resulted in sixteen patents for their company. Not satisfied with his "retirement," Claude founded Miraco Company, which manufactures livestock watering systems for worldwide distribution.
In 1993, Claude donated more than four million dollars and fifty acres of land to build the Ahrens/Paschall Memorial Park, a recreational and athletic complex and the Ahrens Family Center, a multi-use childcare facility. The park is a tribute to Claude's late son, Paul, who passed away in 1989 at the age of fifty, and a friend of Paul's, Jim Paschall, who also passed away at a fairly young age. Building a recreational park had always been a life long dream for both Claude and his son, Paul.
The Ahrens/Paschall Memorial Park is home to eight youth softball and baseball fields, outdoor basketball courts, a tennis court, four pickleball courts, a sand volleyball court, several playground areas, three shelter houses, a sledding hill, community gardens, green spaces, and a one and a half mile outdoor walking path.  The Ahrens Family Center houses the Grinnell Community Day Care and Preschool, complete with an indoor youth gymnasium and swimming pool, where young children are taught to swim and to enjoy many leisure activities.
Grinnell College awarded Claude an Honorary Doctorate degree in 1995 for his outstanding leadership and philanthropic gifts to the community of Grinnell and central Iowa.  This prestigious award, however, did not stop Claude from doing and giving more.
In 1998, Claude built the Grinnell Athletic and Recreation Center, a multi-purpose gymnasium as a new addition to Ahrens/Paschall Memorial Park.  In the year 2000, a third addition to the park brought forth three outdoor soccer fields for youth, as well as a golf driving range for golfers of all ages.  Today, the entire park is comprised of 80 acres of land.
In June of 2006, the administrative foundation offices building for both the Claude W. and Dolly Ahrens Foundation and the Ahrens Park Foundation opened at Ahrens/Paschall Memorial Park. In 2011, an addition to the building was completed, doubling its size. In 2022, a second addition and renovation of the building occurred. Offices for the Greater Poweshiek Community Foundation, and LINK are also housed here.
Today, the Ahrens/Paschall Memorial Park, Ahrens Family Center, Grinnell Athletic and Recreation Center, and the Administrative Foundation Offices are privately owned and operated by the Ahrens Park Foundation. Claude's third generation of family members is leading his legacy to carry on his wishes of giving back to the community that was so good to him.
Whoever said "you can't be all things to all people," didn't know the spirit and legacy of Grinnell, Iowa businessman and philanthropist Claude W. Ahrens.  Ahrens admonished others to "leave it better than you found it," and followed his own advice to the healthy benefit of Iowans.
"I hope it can be said that every child can learn to swing a golf club or a tennis racquet and learn how to swim. I believe if children learn these things they'll have less of a chance of getting bored."
— Claude Ahrens at the 1994 dedication ceremony of the Ahrens/Paschall Memorial Park and Ahrens Family Center