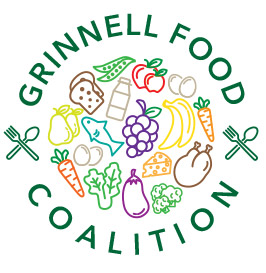 The Grinnell Food Coalition was formed in order to address food insecurity issues arising from the COVID-19 pandemic. It is our mission to provide reliable resources and guidance during these uncertain times. We have put together a resource guide containing local, state and federal information on food assistance, mental health and wellness services and financial resources. Grocery vouchers are also available. Please scroll down and complete the form below to request vouchers. Grocery vouchers may be redeemed only in Grinnell at the following locations: Fareway, HyVee, McNally's, Grinnell Farmers Market, Grinnell Farm to Table, or with farmers affiliated with Local Foods Connection.
As the Coronavirus pandemic continues, the outreach and available support will continue to evolve and update frequently. Please be advised that some of the resources listed in the guide may expire or discontinue services.
Your Community Stands With You
The Grinnell Food Coalition is supported by Grinnell residents representing the Claude W. and Dolly Ahrens Foundation, MICA, Imagine Grinnell, Tiger Packs, Local Foods Connection, Grinnell Chamber of Commerce, Grinnell College, Drake Community Library and our local churches and schools.
To Donate to the Food Voucher Fund:
Tax deductible contributions can be made online or sent by mail to:
Claude W. and Dolly Ahrens Foundation
1510 Penrose Street
P.O. Box 284
Grinnell, IA 50112
Contact Us For More Information
Please use the form below to receive more information on available resources or to request a grocery voucher. We will provide grocery vouchers as long as our funds allow. Please complete the short survey below. This information will only be shared with partner organizations that have additional resources to provide and that agree to maintain strict confidentiality.
* Indicates a required field.