May 19, 2016
A new logo for the Claude W. and Dolly Ahrens Foundation (CDAF) has recently been unveiled.  "The staff and board felt it was time to update the foundation's logo and celebrate the collaborations and growth of the foundation's programs and grant funding that has benefited the community of Grinnell and surrounding communities for over twenty years," explains Julie Gosselink, president and CEO.
The new graphic found in the logo represents a multitude of things including the following:
• The stylistic "A" is used to represent "Ahrens" as well as symbolize the people of the Foundation.
• The "arms" are stretched out to show support and engagement.
• The "A's" are interlocked to symbolize the foundation's collaboration and partnerships.
• The square that is formed by the interlocking "A's" represents the solid base or foundation provided by CDAF.
• This logo also has an organic, floral feel which represents growth and life.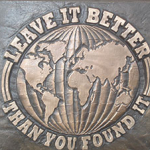 Gosselink continues by saying, "The 'Leave It Better Than You Found It' phrase will forever stay as the Foundation's tagline. This was one of my grandfather's (the late Claude Ahrens) favorite sayings and it was very important to him that the Foundation carry out this sentiment." The Foundation has since trademarked the phrase and will continue to use the tagline in conjunction with the world globe graphic due to its universal message.