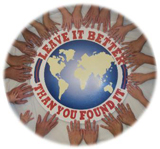 The "Lend A Hand" program was created to provide opportunities for board, staff and family members of the Claude W. and Dolly Ahrens Foundation and the Ahrens Park Foundation to personally connect with our community and to volunteer our time.
Throughout the year we promote various community volunteer opportunities that the Claude W. and Dolly Ahrens Foundation and our families participate in, as another way to "Leave It Better Than You Found It."
Community service is all about helping people but also gaining an understanding about each other and a sense of human compassion. It can be a very rewarding and enriching experience. It's also a great way to further a cause, develop new skills and meet people, more importantly it can make a major difference in our community.
The first "Lend A Hand" event took place for the Kids Against Hunger packaging community event in November 2010. In addition, "Lend A Hand" volunteers have served several local organizations and community projects since that includes the Community Meal, Grinnell-Newburg Schools, RAGBRAI, Annual Coat Drive, Christmas Shares, Grinnell Games, Poweshiek Animal League Shelter (PALS), Mid-Iowa Community Action's (MICA) Food Drive, and Poweshiek County Relay for Life.